We in the Department of Neurology highly prioritize fostering an inclusive environment for students, trainees, and faculty from diverse backgrounds and experiences. We also place premium value on serving a diverse patient population not only from New York, but world-wide.
Our department features a Diversity, Equity, and Inclusion Committee chaired by Dr. Greta Strong which features representation from faculty, staff, trainees, and our neurology partners in Pediatrics and at Memorial Sloan Kettering Cancer Center.
We actively partner with New York Presbyterian and Weill Cornell Medicine on many institution wide initiatives to connect to our diverse communities and to understand the influence of sociodemographic factors in clinical care and in research. Programs include working with the Office of Diversity and Inclusion at Weill Cornell and the Diversity Center of Excellence of the Cornell Center for Health Equity including "Make Your Match" and GME Welcome Back diversity events.
We prioritize the annual Diversity Week where we invite Grand Rounds speakers to present and hold workshops on gender and diversity disparities in neurology.
Faculty members also participate in local and national advocacy initiatives in the American Academy of Neurology, the New York State Neurological Society, and many subspecialty societies to ensure patients from all backgrounds with neurological disorders receive the care they deserve.
Our department features a Women in Neurology group to provide a regular venue for mentorship in professional and social settings.
Many of our faculty members and academic divisions feature scholarly work focusing on the influence of patient backgrounds on neurological disease.

Examples include the Women's Brain Initiative and studies by the Clinical & Translational Neuroscience Unit (CTNU) on the role of gender and race in stroke diagnosis and treatment.
A total of 71 active research protocols involve diverse and important studies in neuro-oncology, stroke, dementia, movement disorders, multiple sclerosis, and other areas. Our infrastructure comprises a Vice Chair for Clinical Research, Hooman Kamel, M.D., and a Clinical Trials Director, Blagovest Nikolov, M.D. with a dedicated Neurology Clinical and Translational Research Committee whose faculty represents each subspecialty area and the representatives of the Residency Research Council. This committee aims to promote success of ongoing and future clinical trials, with a focus on efficiency of clinical study set up, implementation, recruitment, and retention

The founding members of the Weill Cornell Medicine Department of Neurology Diversity, Equity, and Inclusion Committee.
From left: Louise Klebanoff, Matthew Robbins, Rachna Malani, Moises Dominguez, Jasmin Harpe, Greta Strong, Janice Void, Susan Broner, Gail Forde, Belinda Marquis, Steven Karceski. Not pictured: Claire Henchcliffe, Joseph Safdieh.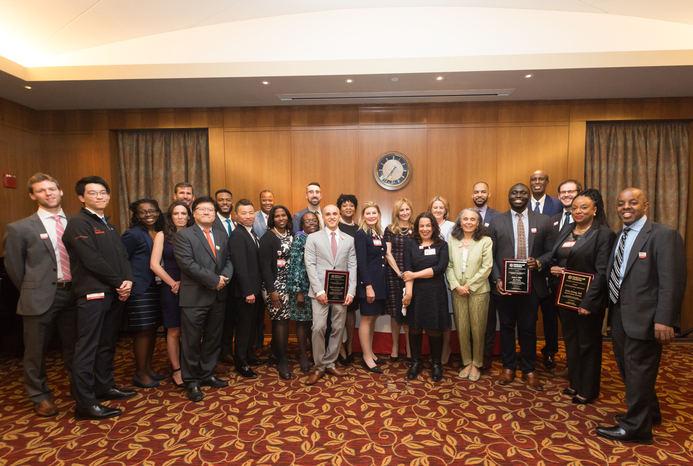 Greta Strong, EdD., Neurology (second from right), received the Pioneers in Diversity Award for Administrative Staff who go beyond the call of duty to ensure the environment is inclusive, engaging, and nurturing in pursuing Weill Cornell's mission of education, research, and high-quality patient care.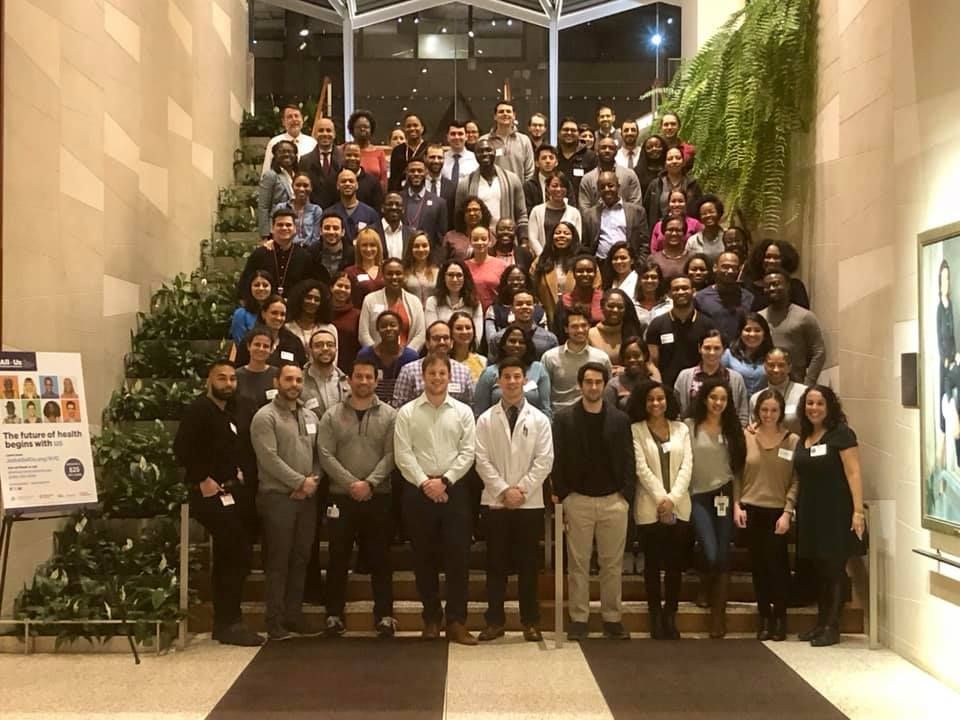 The GME Diversity Welcome Back event in 2019, featuring participation from our neurology house staff.